Charlotte Five's Readers Choice: Voted Best Brewery in Charlotte Area
Music Bingo Every Wednesday @ Belmont!
1426 1426 people viewed this event.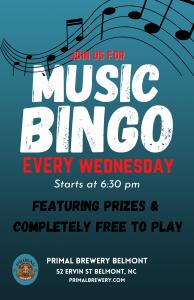 Join us at Primal Brewery Belmont every Wednesday for some Music Bingo! Playing is completely free, just show up to play and win prizes. The playlists have everything ranging from 80's and 90's hits, one hit wonders, tv theme songs, and many more!
To register for this event please visit the following URL: →
Share With Friends